What is the Membership Subscription Program?
Available February 2018.
The Membership Subscription Program enables teachers to create a class membership account providing students with digital access to The 21st Century Student's Guide to Financial Literacy – Getting Personal – Student Workbook.
As a bonus, each student receives a downloadable PDF Chapter Activities Binder which includes worksheets, activities, and assessments, as well as links to vocabulary e-flashcards. These resources can be accessed remotely by students from any device with web access during the subscription period.
What is the subscription period?
The subscription period is for 100 days beginning the date you activate your class membership. Access automatically terminates at the expiration of the subscription period.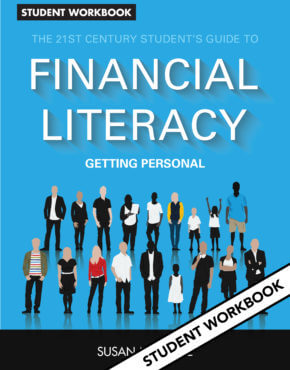 Is the Membership Subscription Program an online course?
The Membership Subscription Program is not intended to be a substitute for classroom instruction. It is not an online course, but provides an alternate, digital version of the student workbook and a downloadable Chapter Activities Binder. Educators can monitor student accounts to determine whether and how often a student accesses their account.
How do I get my students started?
1. Download the order form telling us how many student accounts you need. Make sure to include your email contact information!
2. Attach a purchase order or payment information to the order form and fax it to us at 949-209-1871 — or email it to financialliteracylessons@gmail.com.
3. Upon receipt of your order, c21Student Resources will email you a link to the Membership Subscription Registration page along with a unique coupon code.
4. When you're ready to activate your subscription, click on the link and use the coupon code to register your membership.
5. Once registered, follow the instructions to invite your students to create their personal accounts.